The Post-Standard, Syracuse, N.Y., Sunday, May 31, 1942
Farmers, Storekeepers, Cottagers Removed
Mass Removal Due to Building of Training Station
GENEVA. --The farmers living south of the Seneca ordnance area who last year looked on when their neighbors to the north moved away by the score, their houses razed, their lands turned into a government reservation, know today just how it feels.
Today the farmers to the north of Seneca Ordnance and the cottagers along two miles of Seneca lake shoreline, know full well just how it feels to know that within a space of days, weeks at the most, the place they'd cherished thru the years as their own can no longer remain in their possession.
Bean Shaped Plot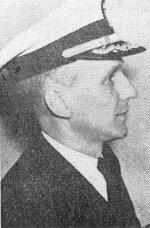 Comm. J. B. Gebhard, in charge of naval training station to be constructed on east side of Seneca lake.
For residents of the 2,700 acres included in a huge bean shaped plot bordered on the west by Seneca lake and on the east by route 96A and including the village of Kendaia, will within a space of days be government owned property where within a few weeks time there will appear navy-clad men in units of 5,000 until there will be a grand total of 30,000.
The waters along Pontius Point and Bartlett Beach which fishermen cherished as a trout paradise will still be there but not for them. The shore line which they graded so carefully, where they built their outdoor ovens and ran docks into the blue, will be there but it will be supporting a water-front facility boasting a sizeable fleet of small craft including cutters, whaleboats, motorboats and sail boats.
Where cottages stood at the northern end of the Bartlett Beach area there will soon be erected a 1,500 bed hospital. The southern end of the naval training station will first teem with construction as barracks, canteens, dispensaries, storehouses rise to take the place of the cottages that were and to the east the fallow fields that produced general farm crops and where cattle grazed in lazy peace, will resound with the martial tread of drilling cadets.
Population 100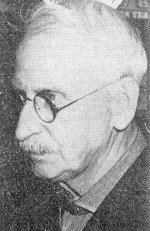 Charles C. Garrison feels "too old to start another business" when the Kendaia general store he's tended for 50 years is taken from him this week along with the house where he was born, the one he built for his bride 47 years ago, and their little cottage on the shore.
Further inland the little hamlet of Kendaia which before the populace of the world began shifting around the globe, boasted 100 population, is about to be divided against itself for route 96A cuts thru its middle and the lands and properties on one side are within the reservation area and those on the opposite side of the highway are not.
In the village are two general stores that have been operated by their owners and their fathers before them; owners born in the village where they have married and always lived. There's a church that was operated by the Episcopalians until they permitted its transfer last year to the Baptists because the latter denomination had lost their church to Seneca ordnance. There's a schoolhouse, a Grange hall, and little residences that for the most part were built by their present owners or their forbears.
"We're pretty upset by it all" admitted Charles C. GARRISON, half-century operator of one of the general stores. "I was born there to the east in that second house. I built the house where I live now, twotwo [sic] houses to the west, when Ida M. SEIGFRIED and I were married 47 years ago, back in 1895. We don't know where we're going or what we'll do."
"Why don't you move across the highway and start your store on the other side?" he was asked.
Too Old Now
"We're too old now to start all over again," he said. "We wouldn't be able to stand all the hustle and bustle there'll be around here. No, it would be too hard for us. But we don't know what we'll do. We are alone. We don't know just where we'll go. We can't decide anything until we know what we're going to get for our property. We had a little cottage on the shore but of course, that's going too."
Along the shore road in a large colonial homestead that would catch the eye of anyone who knows good architectural lines live Mr. and Mrs. John B. HARRIS. They've lived there 32 years. Mr. HARRIS, a grandniece of the builders, has lived there longer. The farm has 100 acres of good general farm land.
"Yes, it's clay," admits HARRIS, "but it produces well when you use it right. I've made a living and can't complain. Of course, we hate to leave here, but it has to be."
Came in Rowboat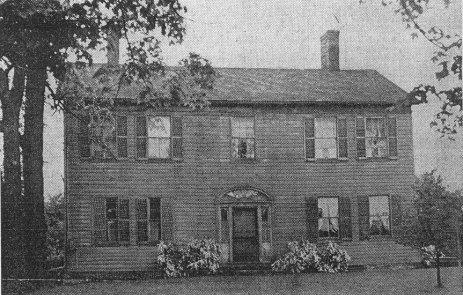 To Feel Effects of New Seneca Naval Station: Clapboards cover the solid brick walls of the present Bartlett Beach house, formerly Bartlett inn. To the left one tree root has produced four separate maples and beneath which one visualized a stagecoach halted in the era when the house was Bartlett inn, a widely known stop between Buffalo and New York. The barroom was in the front room to the left of the center hall.
Questioning discloses that this great house dates back to post-Revolution days. The original owner, Haynes BARTLETT was one of four brothers who'd served in that war. They came down Seneca lake in a rowboat from Newto[w]n, now Elmira, and liking the site camped beneath a tree there until they con[s]tructed a log cabin. That was along about 1792. The present house was built in 1812 and one of the original bricks made on the property bears the crude inscription "1812" scratched in before the brick was baked.
In the early days the house was an inn and the former barroom can be seen in one of the bedrooms. The last of the BARTLETTS, Mrs. Rosalie HAGGERTY, a widow and great-granddaughter of the builder, lives farther east in a home which is also to go into the "Sampson, N. Y." naval reservation. In her home is a tall grandfather clock that originally ticked away the hours in the colonial mansion and which was fashioned of black walnut grown on the site.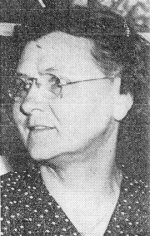 Mrs. Rosalie A. Haggerty, daughter of Andrew Jackson Bartlett, must leave the home where she and her father before her were born. She is the great-great-granddaughter of Haynes Bartlett, the revolutionary soldier who built Bartlett inn in 1812.
For several hundred cottage owners on the eastern shore of Seneca lake, what was their one sure haven of peace and quiet has suddenly become a land of evacuation. Into the effort to own first a lot, then a cottage, they poured their dreams of future leisure years. They were willing to toil and they did, to make that dream a reality.
Felt Secure
The world conflict might rock distant shores. There was the chance that sacrifices of young men and food and comforts might be felt here, but the cottage owners felt a certain security in their shore property, and there was more than met the eye and ear of the outsider when they'd say, perhaps with a deprecating smile, "Well, we can always hole in at the cottage."
Life was simple "at the cottage." If you worked hard while you were young you could enjoy all the effort, and when the time came, you could, like many others, retire and stay on the shore thru the sunset of your life. It was the most wonderful thing you'd ever done, when you acquired that lake property. Almost like getting an interest in the "pot o' gold at the end of the rainbow."
"The best fishing in the country. Lake trout that are sporty catching, delectable eating. Sunshine, shade, gardens, trees, flowers, the outdoor hearth; the indoor comforts desired by the owner."
Rumors First
But that was yesterday. A yesterday that came like a black cloud, threatening, ominous. The cloud was born of rumor that the government had decided that here was the right spot for an immense naval training base.
"It can't be that we'd actually lose the cottage. Just when we have it as we want it. And now that we've retired and we don't have to leave here. That can't happen, can it?"
This was Mrs. Sidney KUNEY of Bartlett Beach, speaking in wondering fear to her husband, former Waterloo florist. Tears gathered in her blue eyes, ran down her cheeks.
That was yesterday. Today Mrs. KUNEY and all the other cottage owners from Geneva, Rochester, Waterloo, Lyons and adjacent towns know that the shore they've wooed from a wooded tract into their heart's desire has in fact slipped from them. All that remains of their shore retreat will slip back for them into the dream whence it came.
A Hard Twinge
How do they take it?
In as many ways as their number.
It's a hard twinge for all of them. On the whole the inevitable is accepted as just that. But back of a calm, manly "We just have to accept it-you can't do anything but accept it," is the knowledge that "taking it" is costing something that can't be won back.
So from Kendaia creek along the shore thru Pontius Point, along the shore southward thru Bartlett Beach-a distance of a good two miles-the havens of security, peace and pleasure, have slipped from their owners to make way for the navy, an arm that will help insure for the future that security and peace now threatened around the globe.
Those who see the larger picture feel the changing tide less keenly, especially if they're in the younger age group, the group that was beginning the "dream home on the shore." But for the older couples, it's less easy to "take."
"We've just come back from our usual winter stay in Florida," said little Mrs. Clarence SKUSE in the door of her cottage on Pontius Point. "We're just heart-broken. I'm so upset I can't talk to you. Here's Mr. SKUSE, he'll have to do the talking. I just can't. I'm not so well and this has made me too nervous. It's my heart."
Big, blue-eyed, tanned Mr. SKUSE hove into sight with "Sport" who'd been for a walk.
"How do you feel about this sudden loss of your cottage, Mr. SKUSE?"
"Bad, of course. But what's the use? You can't do anything but take it." He smiled as tho it really didn't matter, but you knew he'd mastered self control long ago.
There 16 Years
"Been here long, Mr. SKUSE?"
"Well, yes. Guess it's about 16 years. Came here to fish long before that. Must be all of 25 years ago. I was the first to build here on the Point. It was the fishing that brought me here and kept me here. Caught a nice eight-and-a-half pounder just last night. This morning my catch was just a four-and-a-half one." While their possession was just a cottage on the lake, it was their only northern home and that in it was wrapped all their love of land, a love as deep and abounding as that held by greater owners for acres of soil that had been traditionally theirs.
To the suggestion made to some cottagers that they could find another spot somewhere on the shore there was the general reply of "Where?" for desirable shore lots on Seneca lake have long been scarce and never more so than now.
Genevans Listed
Among the Genevans among the east shore cottage evacuees are: Sergt. Antonio GIGLIOTTI, Louis DIPILLO, Daniel CHACHIA, T. A. MCKELVIE, T. W. BLECK, Dr. Paul BALDRIDGE, Postmaster Daniel DRISCOLL, Fred J. FURMAN, Dr. Thomas K. MEANS, Stanley C. HUFF, Oscar F. RICKELS, Frank E. BERRYMAN, Dr. M. Edgerton DEUEL, William A. MERRITT, Mrs. Edith M. DILLINGHAM, Mrs. E. J. STOCKWELL, E. A. SPEERS and others.
From Lyons there are L. J. HAZEN, Mrs. Clarence FYNAUT. From Waterloo there are Hadley S. SESSLER and Laverne SESSLER, a Mr. WALKER, Clarence KUNEY. There are a few from Kendaia. These include Mark BALDRIDGE, C. C. GARRISON, born in the village three score years ago, Fred GARRISON, also a native of the area where he has lived all of his life.
Photos by James Coss, Canandaigua.