Bob Hope Wows Center with Gags: Packs Ingram Field in Breezy Show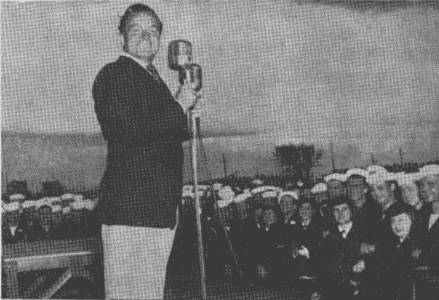 Gag-Ga--Where's there's life there's Hope. And Bob Hope's gags had plenty of life as he convulsed officers and enlisted personnel during a one hour, laugh-packed show on Ingram Field. Photo shows Bob starting the parade of stars that included Frances Langford, Jerry Colonna, Vera Vague, Skinnay Ennis and Tony Romano.
"I've heard a lot about this place, fellows, but I came anyway!" Thus Bob Hope greeted 10,000 officers and men, who, with him, braved chill winds and threatening skies on Sampson's Ingram Field on Tuesday afternoon, March 22, to enjoy a one-hour show by the radio comedian and his troupe. Hope Salaams Commodore Accompanied by Frances Langford, Jerry Colonna, Vera Vague and Skinnay Ennis, Hope poured a running fire of gags into two microphones set up on an improvised stage in the center of the field. The bleachers shook when Hope, responding to a salutation from Commodore Harry A. Badt, USN, Center Commander, dropped to his knees, salaamed, and remarked: "You never can tell when you're going to be drafted."
Later, at 2200, Hope put on his regular weekly broadcast from the auditorium of the Sampson Naval Hospital before an audience of 600-plus enlisted men, including many combat causalities. Sampson Takes Ribbing On both the afternoon show and the broadcast, Hope gave Sampson a good-natured ribbing, to wit, "Alcatraz with grass," and "The hangnail of the Finger Lakes."
Thoroughly familiar with the Sampson-inspired expressions as "skinhead" and "you'll be sorry," he paid his respects to the feminine branch of the Navy with frequent references (with the Hope leer) to, "Oh, those lovely WAVES." Hope and Colonna teamed up for a series of songs, accompanied by Tony Romano on the guitar, while Miss Langford obliged with several sultry numbers.
Vera Vague, surprisingly pulchritudinous, was right in character with her, "Oh, goody! Oh, what a lot of sailors!" Commodore Badt, in a witty epilogue, expressed the thanks of the Center to the Hope company. Captain John T. Bennett, MC, USN, Medical Officer in Command of the Hospital, made a similar acknowledgment at the end of the Hospital broadcast. Commodore Badt and Mrs. Badt were hosts to the troupe at a special Navy steak dinner in Bennion Unit mess hall after the broadcast. Mayor Joseph Kelly of Buffalo and his party also were the guests of the commodore and Mrs. Badt.