FATHER AND SON ENLIST TOGETHER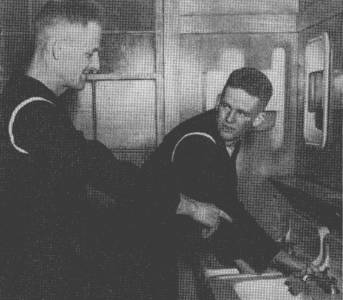 Pop Finally Boss - "Get on the ball and no gold-bricking" says Joseph Martin, 49, to his son, Thomas, 17, Pop, who fought in five major campaigns with the field artillery in France in the last war, enlisted with his son and both are now taking recruit training with Co. 358. The father is barracks MAA.
Father, Veteran of Last War, Enters Training Here with Son
Joseph Martin, 49, a recruit with Co. 358, no longer has to worry about obedience from his son, Thomas, 17. For the father is MAA in the barracks and the boy is in charge of a cleaning detail. Pop shows Tommy no mercy. A veteran of the last war, the father, now a Seaman Second-class, was with the field artillery and participated in five major campaigns overseas. He was in Belgium when the war ended. "I never thought I'd be in another war," he said.
Enlist Together
Father and son enlisted in the Navy together and reported to this Center on 20 October, after the son submitted to an operation to qualify for service. The Martins have a farm in Hunterdon County, N.J., where the family has lived since 1800. One Martin boy, John, an aviation radioman, was reported missing after a plane flight more than a year ago and is now presumed dead.