SAMPSON NEWS
U.S. Naval Training Station, Sampson, N. Y.
June 4, 1943
Jap Sub To Be Exhibited At Station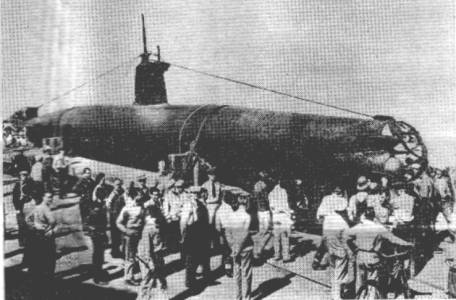 Captured during the attack on Pearl Harbor on December 7, 1941, this

two-man Japanese submarine will be on exhibition on the station Monday. The

"suicide" sub is making a tour of the United States to stimulate the sale of War

Savings Stamps and Bonds.

Jap "Suicide" Sub To Be Shown Here Two-Man Submersible Captured During Attack On Pearl Harbor Will

be Exhibited Monday On Station; Open For Inspection

The two-man Japanese submarine captured during the Dec. 7, 1941, attack on Pearl Harbor will be exhibited on the station all day Monday. The suicide submarine will come here from Syracuse where it has been used in the "Slap-a-Jap" bond drive.

Officers, enlisted personnel, recruits and civilian employees will be permitted to inspect the little "suicide ship," one of several which played prominent parts on the day which brought war to America.

Officer Captured

The Jap sub was captured intact when a plane dropped a light bomb on the seaward side of the submersible, lying just outside a reef a few hundred feet offshore, according to Capt. Eugene E. Wilson, of the Army Air Forces, who saw the incident. The blast washed the sub up onto the reef, making capture easy.

The officer who had been in the submarine was captured by U. S. troops while swimming ashore, Captain Wilson reported. He asked to be allowed to shoot himself, since he had failed in his mission. There was no trace of the enlisted man who had been in the submarine with him.

The "suicide ship" will go to Rochester after its one-day stay at Sampson.