SAMPSON NEWS
U. S. Naval Training Station, Sampson, N.Y.
June 11, 1943
Thousands See Exhibit of
Jap Two-Man Sub
Station WSAY, Rochester, Broadcasts Half-Hour Program During Visit of Two-Man Submersible
The Jap two-man "suicide" submarine captured at Pearl Harbor on the day that brought war to the United States was an object of considerable interest to thousands of officers and enlisted men of the station when it visited Sampson last Monday. The sub was on exhibition in front of the Receiving Unit throughout the day.

For Commander John M. McIsaac, USN, Recruit Training Officer, it was his first glimpse of the Jap submersible since shortly after its capture. Commander McIsaac, then commander of the destroyer MacDonough, was at Pearl Harbor during the Jap raid of December 7, 1941, and examined the "suicide" job when it first fell into U. S. hands.

Program On Air

Five of the two-man subs were hoisted over the sides of a Jap merchant ship 150 to 200 miles at sea, Commander McIsaac explained, and headed for Pearl Harbor. Four of them were sunk. The one exhibited here Monday was captured when a bomb dropped from a U. S. Army plane washed it ashore on the north side of the island.

These are only a few hundred of the thousands of bluejackets who viewed the Jap two-man submarine on exhibition at the station last Monday.

Station W S A Y, Rochester, broadcast a half-hour program from the sub exhibit Monday. Mort Nusbaum .interviewed Captain Harry A. Badt, USN, Commandant; Captain William B. Coleman, USN, Executive Officer, who was on alctive duty in the Pacific at the time of the Jap attack on Pearl Harbor; Commander McIsaac; Ensign R. H. Makemson, USNR, in charge of the War Bonds Office on the station; CMoMM Edward J. McQuaid, USN (Ret.); Pay Clerk Carl E. Lucas, USN, and CEM Joseph A. O'Neil, USN, the latter three being men who have had service on submarines, and Frank H. Clark, representing the U. S. Treasury Department..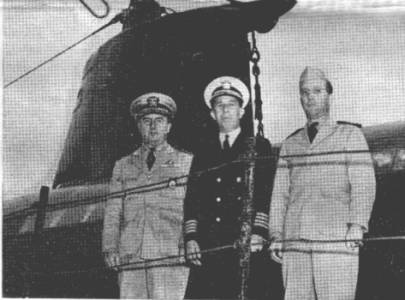 This excellent shot was taken from the roof of the Receiving Unit. T Captain Harry A. Badt, USN, Commandant (center) is shown after he had inspected the sub with Captain William B.Coleman, USN, Executive Officer (left) R and Commander John M. McIsaac, USN, Recruit Training Officer.
(Official U. S. Navy Photos)