THE SAMPSON NEWS
U. S. Naval Training Center, Sampson, N.Y.
15 September 1944
Capt. Badt Advanced To Commodore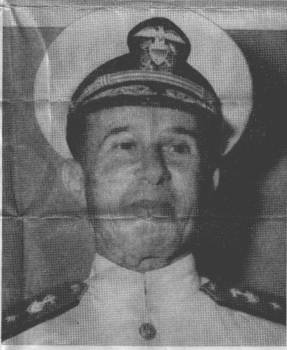 Commodore Harry A. Badt, USN

U. S. Senate Acts on President's Recommendation Commander of Center Since Its Establishment Given Flag Rank On Approval Of Upper House

The United States Senate has confirmed the promotion of Captain Harry A. Badt, USN, Center Commander, to the rank of Commodore. The Senate acted after Captain Badt had been nominated to flag rank by President Roosevelt.

The honor comes to Commodore Badt as a fitting reward for a long and distinguished career in his country's service.

Commodore Badt graduated from the Naval Academy in 1908, and completed 40 years of active service on 10 May 1940. After almost seven years at sea, he took the post-graduate engineering course at the Naval Academy, and, in 1916, received his Master of Science degree from Columbia University.

World War I Duty

Thereafter, Commodore Badt alternated between sea duty and shore duty and served almost 20 years at sea. During World War I, he was at sea from August, 1916, to May, 1920, during which time he was engineer officer of the cruiser MINNEAPOLIS, which was on escort duty in the Atlantic; and later navigator of the battleship MINNESOTA, from which he went to the new battleship, ARIZONA, as navigator.

The Center Commander served 16 months in European waters, 1923-24, principally in the Mediterranean, as Commanding Officer of the destroyer, SIMPSON. Upon returning to the United States in 1924, he was ordered to duty as the first Engineer Officer of the new light cruiser, MARBLEHEAD, which made Naval history in World War II.

Conducted Aleutian Survey

In 1933, he was sent to the Aleutian Islands as Commander of the first Aleutian Islands Survey Expedition for pioneer work in charting the Adak Area.

From 1935 to 1937, he was director of all Navy Recruiting in the United States with headquarters in Washington, and then, spent one year at the Naval War College, Newport, Rhode Island. In 1938, he went to sea as Commanding Officer of the heavy cruiser, TUSCALOOSA, and served on that vessel until April, 1940.

Directed New Projects

In 1940, Commander Badt became Director of Enlisted Personnel of the Navy, and in April, 1942, became Director of Special Projects. In this capacity, Commodore Badt was charged with the organization of the three new Naval Training Stations (later designated as Naval Training Centers) under construction at Sampson, N. Y. Bainbridge, Md., and Farragut, Idaho. The Naval Training Station at Sampson was established on 17 October 1942 with Commodore Badt as its Commandant. On 19 April 1944, the station was redesignated as a Naval Training Center and Commodore Badt's title was changed to Center Commander.

Commodore Badt was married in January, 1926, to the former Miss Jennie Yudelevit of Washington, D. C. They have two children, Lois Mae, 16. and Esther Ellen, 5.