NEPHEW OF ADOLF HITLER ARRIVES FOR BOOT TRAINING
AT SAMPSON NAVAL STATION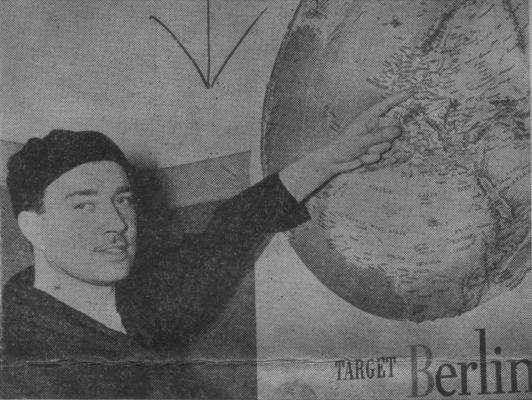 NAVY GETS HITLER
German born William Patrick Hitler, 32 year old nephew of Fuehrer Adolf Hitler,
inducted into the U.S. Navy and now receiving his "boot" training at the Naval Station at Sampson
Sampson, March 8-Adolf Hitler's nephew, William Patrick Hitler, 32, entered the US Naval Training Station here yesterday for his "boot" training and expressed his delight that he will be able to help in the war against his uncle. Now an apprentice seaman, Hitler, good-looking six-footer, had fails in attempts to enlist in the British, Canadian and US Armies because of his kinship to the Nazi dictator.
William Patrick Hitler's father Alols Hitler, is Adolf Hitler's half-brother and second cousin.
The Nazi dictator's nephew is a British subject, and has been trying for the last few years to enlist in the British, Canadian or American forces. He was turned down on each attempt when the authorities came to the part of the questionnaire in which the applicants list relatives who are or have been in the armed forces of enemy nations. When they saw Corporal Adolf Hitler listed there, they told young William Patrick there were no vacancies at present.
The American Army wouldn't have him, turning down an application he made in 1942 to enlist in the Air Forces. William Patrick wanted to get into the Air Forces because he felt that in that capacity he would be able to get in touch promptly with Uncle Adolf. He was cheered up when informed by his draft board that he had been put in Class 1-A, but months dragged along before he was called.
He passed his physical examination last month and reported Monday morning at Local Board 245 in Long Island City, coming by plane for the appointment from the West where he was delivering lectures on Uncle Adolf. Soon after 10 a.m. he was sworn in as an apprentice seaman at the Naval recruiting station at 383 Madison Avenue, New York City.
"I am overjoyed," said William Patrick.
His mother, who is Irish, and his father separated after two or three years of marriage, Mr. Hitler going to Berlin, where he has a restaurant, which, it has been reported, was bombed in a recent Allied air raid over the German capital.
William Patrick was reared in England but when his uncle rose to power, he found it difficult to get a job there because of his name.
In 1932 he planned to come to the United States and wrote his father of his purpose. His father persuaded him to go to Berlin.
"There was a family conference in Adolf Hitler's hotel," said William Patrick, "Hitler wept and raved that his family was ruining him, and threatened to shoot himself--his favorite threat. He shouted at me that if I returned to England or came to America he would make it plain that I wasn't related to him at all."
His father, William Patrick said exhorted him to utilize his opportunity as the "the only heir of a genius who is going to change the course of history," His uncle got him a job with a steamship company, but William Patrick got himself a better one in a bank.
"My conduct didn't please my uncle," he said, "The Gestapo gave him monthly reports on my activities, and in 1939 he demanded that I become a German citizen,"
It was in 1939 that William Patrick and his mother came to the United States.