SERVICEMEN---AND CITIZENS
THURSDAY, APRIL 20, 1944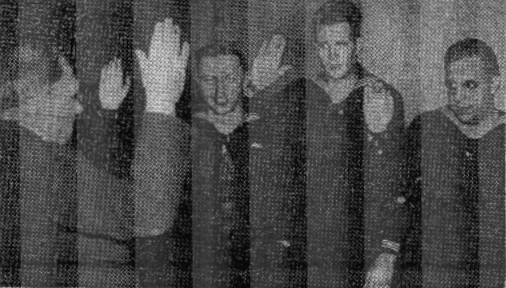 Already in Navy service at Sampson Training Station, Stig Henry Gleisner a native of Finland; Karsten Knudsen, who was born in Norway, and Meyer Saltzman,a native Canada, from left, take citizenship oath from Clerk Howard G. Cooper at special court.
Three BlueJackets from Sampson Naval Training Station lined up before Supreme Court Justice William F. Love in Naturalization Court yesterday, raised their right hands and took an oath that made their relationship with Uncle Sam "official."
All three had lived in the United States since childhood and, for each of them, being admitted to citizenship was just a matter of taking advantage of the quick-service, no-fee arrangement the government has offered to servicemen, to do something they had planned to do a long time.
Native of Norway
Tall, fair-haired Karsten Knudsen, fireman first class, of Brooklyn, a native of Norway had lived in the United States since 1928, and was employed as an electrical worker before he was sent to Sampson six months ago. One day not long ago he decided to become naturalized and fixed it up with his commanding officer on the spot to make the trip to Rochester. He's no relation to William S. Knudsen, the Danish-born production wizard who formerly headed the War Production Board, but, for fun he "lets on" that he is when people ask him. He always says: "yeah, he's my uncle."
Finland
Stig Henry Gleisner, 20, of Roslyn, L. I., seaman second class, was born in Finland and came to this country at the age of 7. He was a machinist for a publishing house in New York before the Navy took him last September.
He's From Canada
Meyer Saltzman, 28, pharmacist's mate, second class, from New York City, a native of Canada, was a consulting industrial engineer before he entered the Navy eight months ago. He's attached to the Naval Hospital at Sampson. Becoming a citizen for him, he explained, was "simply clearing something up." He has lived in the United States 16 years.
The oath, administered by Deputy Naturalization Clerk Howard G. Cooper, was taken in special session of court. For servicemen the government permits filing of the petition and the final oath on the same day, while a 30-day wait is required for civilians. The $5 fee also is waived.
Sampson, N.Y. Mother Has Six Sons In U. S. Navy
April 18
Mother of six sons in the U. S. Navy, Mrs. Edward O'Brien of Medford, Mass., was the guest of honor at a surprise family reunion with four of her boys at this U. S. Naval Training Station Sunday.
Mrs. O'Brien, accompanied by one son who was on leave from his Navy auxiliary, paid a surprise visit to three other sons who are in training with the same company here. After appearing with her boys on the regularly scheduled all Navy broadcast, "BlueJacket Time," from Sullivan Auditorium, which is named after the Five Fighting Sullivan Brothers, Mrs. O'Brien then sat at the head of the table of an old-time family dinner in "Ships Service," the station's canteen. Seated with her were Chief Specialist Russell N. Crosby, of Hazleton, Pa., commander of the O'Brien boys' company who himself is one of seven sons; Joseph P. O'Brien, 24, second-class ship's cook; Richard Edward, 30; Leo Richard, 18; and Paul Edward, 25. The two Navy O'Brien's missing from the family gathering were John P., 22, also a ship's cook, and Thomas J., 26, a boatswain. A seventh brother, employed at the Charleston (Mass.) Navy yard, is about to enter the service and has asked for Navy duty.
MEMORIAL DAY AT SAMPSON
Sampson, N.Y. OBSERVANCE May 27
More than 8,000 BlueJackets of the U. S. Naval Training Station, Sampson, N.Y., will be massed on the First Regiment drill field at 1:30 Sunday afternoon for traditional naval observance of Memorial Day.
Following the national anthem, the brigade will be presented to the Commandant, Captain Harry A. Badt, USN, who will speak briefly to the assembled men. A prayer will be offered by Commander W. W. Edel, USN, senior chaplain. A firing party will fire three volleys and taps will be sounded as a memorial to the dead.
At the conclusion of the Memorial Day observance, the brigade will pass in review before the Commandant. Families of Sampson officers and men may attend the ceremonies.
If the weather is inclement, the Memorial Day observance will be held in the C Drill Hall with a small number of BlueJackets participating.