M-M! THEY'LL PASS THE TURKEY -- 40,000 POUNDS OF IT !! Tuesday, November 23, 1943
BlueJackets Will Get Old-Fashioned Meal Thanksgiving Day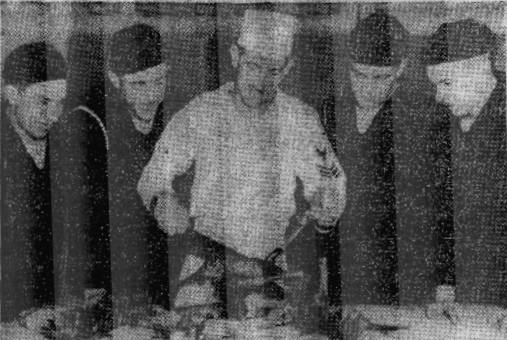 Displaying keen interest in the carving of this turkey are a few recruits who'll help "stow it away" Thanksgiving Day as more than 40,000 pounds of turkey will be served.
From left are Edward Wisniewski, Brooklyn; Elmer Trent, Damascus, Va.; Carl Cleveland, Plymouth, N.H.; Olof Johnson, Brooklyn; and James Shaw, Cleveland.Thousands of Sampson men will get a big meal. (Official U.S. Navy photo)
U.S. Naval Training Station, Sampson--All aboard this giant Naval Training Station are looking forward to a really genuine Thanksgiving dinner Thursday, headlined by turkey and with all the fixin's.
Twenty-seven hundred birds, totaling 40,000 pounds of dressed meat, will confront the many thousands of recruits and others quartered here. As the men leave the "chow" line and take their places at the tables in the mess halls only the familiar atmosphere of home and family will be missing.
This, of course, will be in the mind of every man, as will also the realization that the folks at home are probably getting by with chicken or some other substitute for the gobbler that is the traditional favorite for this day.
No Holiday for Men
But with a war to be fought and won - so that Thanksgiving Days in the future can again be days of home and loved ones - Uncle Sam's men will still have a thoroughly good time, and a most enjoyable meal, and one which they probably will never forget. The day is not a holiday, though, and the regular work-day schedule will be followed.
The menu will include every dish that has come to be associated with Thanksgiving. With the turkey will be noodle soup, of which there will be 1,000 gallons, giblet gravy, dressing, cranberry sauce, 18,000 pounds of candied sweet potatoes, buttered, fresh beets, garden peas, celery hearts, pickles, raw carrot quarters, mixed nuts, apples, oranges, Parkerhouse rolls and butter, coffee and pumpkin pie, plus a package of cigarettes.
All these dishes will be on the serving tables and men have been assured by Com. Joseph F. Deegan, (SC), USNR, commissary officer, that they can hit the line as hard as they like. And sailors have appetites! They eat about 25 percent more than they did in civilian life.
According to Commander Deegan, the dinner menu has been planned so as not only to include the favorite Thanksgiving dishes, but also with an eye to balance of proteins, minerals, vitamins and carbohydrates. This latter is a controlling factor in the preparation of every menu. The commissary officer went even farther for this meal and planned that it should also be particularly pleasing to the eye. Almost every color in the spectrum is represented -
red in the cranberries and beets, green in the peas, yellow in the sweet potatoes, orange in the carrots, white in the celery and brown in the pumpkin.
Recruits at Sampson realize that they are getting not only the best foods that money can buy but also that they are getting meats and butter and other popular items that aren't on many tables back home. As a result they comply willingly to the dictum that they can have all they want but they must eat all they take.
No Waste
The Navy spends millions for food, but wastes nothing. Leftovers must, by order, be consumed within 24 hours. So the trimmings in the preparation of roast beef, for instance, appear at the next meal as beef stew. Misshaped doughnuts come back to the serving tables as bread pudding. And bones are put in stock pots and the ensuing brew makes delicious soups.
It is the conviction of Commander Deegan that Navy soups are not equaled in any commercial eating places, and he also believes there is more food value packed into a bowl of soup than in almost any other dish.
Recruits are fed at an average cost for food of approximately 52 cents a day. Considering that some of the men like to take up to eight slices of bread, or more, and huge piles of vegetables, and maybe an extra cut or serving of meat, it will be admitted that this is a remarkably low cost figure. The commissary officer in the Navy, however, isn't controlled by price, as is many a housewife. His orders are to buy so that he can provide meals that are balanced with sufficient calories and vitamins.
Half Million Food Bill- Area Merchants Sell Quantity of Food To Station
Sampson buys 5,124,000 pounds of food a month, at a cost of slightly more than half a million dollars. Insofar as is practicable foodstuffs are procured locally, or within this region, for the obvious reason that products are fresher when purchased nearby, but also such a policy reduces haulage and as a result makes for less wear and tear on the nation's overworked transportation system.
Each week 50,000 pounds of beef are purchased in Cortland, 35,000 gallons of milk in Auburn, 10,000 pounds of sauerkraut in Phelps, 2,500 gallons of ice cream in Geneva, and 40,000 pounds of flour in Buffalo and Geneva. During the vegetable season a quarter of a million pounds of fresh vegetables were obtained each week from Geneva, Penn Yan, Auburn, Syracuse and in other nearby markets.
Men Gain Weight
Recruits come out of "boot" training at Sampson weighing 5 pounds more than they did, on the average, when they were first mustered in. The average increase for the younger men is considerably greater, many picking up 15 pounds or so. The older men, if they weren't in good physical condition on induction, are apt to lose a few pounds, usually around the middle.
Commissary officers spend much time making up a menu. When meals for a week's serving are prepared, the schedule is submitted to the medical officer, who goes over it carefully to make certain that the meals are adequately proportioned. If acceptable, the menu goes to Capt. Harry A. Badt, USN commandant, for final approval. It then becomes an order and is obeyed as such.
Practically all the commissary officers at Sampson are college trained and former executives in hotels or restaurants, and so have had considerable training and experience in feeding large numbers of people. Commander Deegan is a veteran of 25 years Naval service and was a supply officer in the last war. He holds the American Defense Medal with Bronze A. He saw service in the African-Near East and the Pacific-Far East campaigns. He has been commissary officer at Sampson since May.