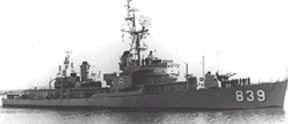 My Father Boatswain RUSSO is buried at Arlington National Cemetery; He was A WWII Vet. Served aboard the USS Harris APA2:

She was awarded: 10 Battle Stars. In reading the history of the ship, there is this sentence: "This was a very busy evening and night. HARRIS had rigged paravanes that evening. and during early morning hours, during, hauling in, or recover of the paravanes, a object stuck the Port side of the ship outside #3 hold. It was soon determined that a mine had become entangled in the paravane and was swinging back and forth striking the side of the ship. HARRIS was ordered away from the formation to dislodge the mine. A destroyer was also order to accompany HARRIS in this maneuver. Boatswain RUSSO and the First Division paravane party had to physically cut the paravane tow cable from the steam winches and HARRIS backed away from the now floating mine. The destroyer was called upon to fire upon the mine, which it did, the mine was destroyed." My Dad always talked about this. He said he was with the First Division paravane party and took part in removing the mine (A paravane is a device equipped with sharp teeth and towed alongside a ship to cut the mooring cables of submerged mines)
This is from the USS Powers website.
I have copied the part of the page that is related to the Harris.- original source: http://www.usspower.com/Archives/arichives.html