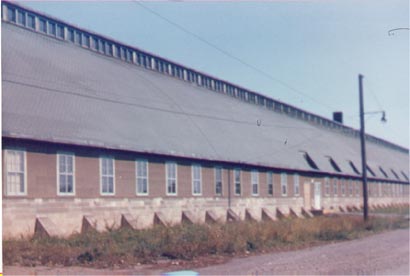 There were 6 Drill Halls, but since they were modular, 8 sections have been found so far.
According to Bill Russell's website:
2 were sold to Middlebury, Vt in 1948, one has since been torn down, the other is still in use.
1 was sold to Springfield College in Springfield, Mass in 1947, it was closed in May 1979. (thanks to Don Crout for noticing I had the wrong state listed)
1 was sold to two farmers in Brockport and Spencerport, NY - the two halves were still in use in 1993
Further research found:
SUNY Oswego had one that became Hockey Arenas.
SUNY Cortland and SUNY Brockport also had old Drill Halls
Middlebury, VT and Oswego Colleges histories state that they were hangars from the WWII Sampson Air Force Base.
In 1951, the former Naval base was reactivated to become an Air Force Base, they didn't have an airfield until 1953-hence no hangars.
Middlebury College got it's Drill Halls in 1948, 5 years before the airfield was built.