8:P:M.
Sat. Nov. 27, 1943

Dear Ida & Patty,

I just got off guard duty. This is after our telephone conversation. From 6 to 8 P:M. Ida what I really wanted to tell you which I forgot was did you get a check from the Navy. I ask you this because Ed. Kiernan told me his wife got a check. I hope you got one, too. Please let me know. I guess I was so exited [sic] because I was talking to you that I forgot. I also forgot to ask you how Patty was getting along with the teeth.

I will try to answer some of the questions you asked in your last letter. As for my clothes, Ida, you can do what you want, it is O.K. with me. Do what you see fit.

I am also glad that you at least had chicken for Thanksgiving. Our dinner was swell but I didnít enjoy it because I wasnít feeling well at the time. I am feeling swell now.

I have no corns. In fact they have been swell since I have been here. I guess itís the big shoes. Lots of room in them. But comfortable. As for my tummy, I think it is going away. I have lost wewight. That is what they want you to do. You will probably love me a little when you see a real man husky and slim with a short haircut and sailor uniform. When I come home we can go on a second Honeymoon. It will be like the real thing after being away so long. O.K.

I havenít too much to say because we didnít do much today.

So be a good girl and wife and take care of Patty. I am thinking of both of you every minute of the day.

Love,
Daddy

P.S. Tomorrow we start our 3rd week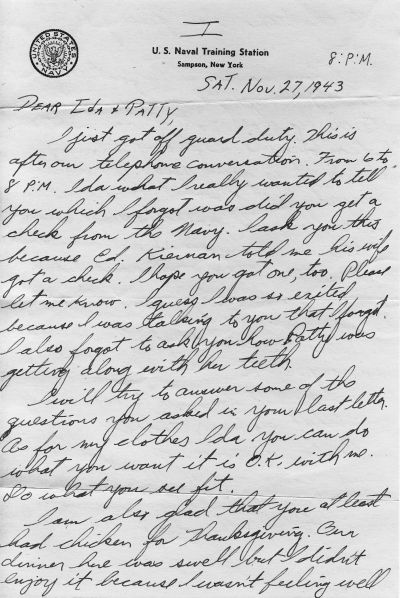 Posted with permission.
Source: http://spitballarmy.com/