Fri. Nov. 26, 1943

Dear Ida & Patty,

I am feeling swell today. I hope you are, too. The fellows are having quite a time with the radio. I collected $6.00 from them. Thatís to pay for the call & postage. Maybe repairs, if necessary. To see the radio here is just like being home. When you see a piece of your furniture it makes you feel good. I donít mean exactly home because it wouldnít be so without you and Patty.

I got more information on that Yeoman 3/C rating. I knew it was too good to be true. The requirements for typing is 50 words and short-hand 100 words a minute. I know I could do it if I had more time to practice, but Tuesday is so close that I donít think I will make it. Itís too bad because if I slid past, I would have a job here at the base. They need Yeomen very bad. The Lt. Commander of our post is going to find out and see if they lowered the requirement like I told you. If they did I may have a chance. Even if I can talk them into letting me take the test, I can go to school if I donít pass. I took a practice test here to see what I could do. In typing, I only did 25 words a minute. In shorthand, he dictated at 100 words a minute. In typing Iím not used to typing fast, but I can do a neat job. As for shorthand, I never did any since I left school. I know that if I practice I can do it because I did it before. Well, I will do my best. If I fail, please do not be disappointed in me because I am trying very hard. It means a lot for the 3 of us.

I still love you
Daddy

P.S. Please send me some pictures of you & Patty. You know the ones I want.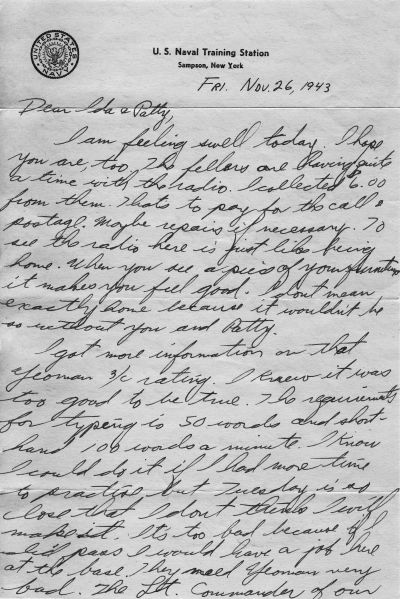 Source: http://spitballarmy.com/