This was originally printed in the Oneonta Star in June 2004. Original format was PDF, and was slow loading with small print, so I asked permission to copy it here in html format. At the OHS homecoming in October, Mark Simonson, columnist for the Oneonta Star and town Historian said it would not be a problem. Pages and sequence of names appears to be random.
original link is: http://www.thedailystar.com/d-day/index.html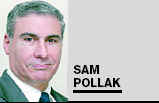 More than 5,000 names of our local WWII heroes
Back when I was earning a considerably more-reputable living as a sports writer, I worked for a sports editor who considered himself quite an authority on World War II.
"What," I asked him one day, "does the `D' in D-Day stand for?" He didn't know, and it drove him nuts. I knew, but since I didn't like him very much, I let him suffer for days before I told him.
Remember, this was long before the Internet gave us almost-instant access to any number of official, reputable World War II websites with the correct answer.
The "D" doesn't stand for "debarkation" or "disembarkation" or even "deliverance." The "D" simply stands for "Day." That's it _ the day a military operation is scheduled to begin.
England's D-Day Museum website explains:
"When a military operation is being planned, its actual date and time is not always known exactly. The term 'D-Day' was therefore used to mean the date on which operations would begin, whenever that was to be. The day before D-Day was known as 'D-1,' while the day after D-Day was 'D+1,' and so on. This meant that if the projected date of an operation changed, all the dates in the plan did not also need to be changed.
"This actually happened in the case of the Normandy Landings. D-Day in Normandy was originally intended to be on 5 June 1944, but at the last minute bad weather delayed it until the following day. The armed forces also used the expression 'H-Hour' for the time during the day at which operations were to begin."
Of course, D-Day actually stands for so much more than what can be expressed in any one word.
Dedication .... Devotion ... Daring ... Death _ all are powerful words, but all are woefully inadequate. The invasion of Hitler's Europe exactly 60 years ago this weekend was the beginning of the end of what is arguably history's most heinous tyranny.
D-Day was also the beginning of the end of the world those warriors believed they were fighting for on the beaches and hedge rows of Normandy in 1944.
The atomic bomb _ which ended the conflict the following year _ was only part of the brave new world awaiting those fortunate enough to survive the war and live to see the 60th anniversary of what novelist Cornelius Ryan called "The Longest Day."
To be sure, all Americans who fought in World War II and lived in the decades afterward must have asked themselves through the years just what was the way of life they fought to protect.
Having grown up in the Depression, they won the war and came back to _among so many other things _ the communist scare of the 1950s, the Korean War, Vietnam, racial strife, hippies, love beads and a "if it feels good, do it" society.
They sometimes found their children rejecting many of the values their parents had regarded as absolute truths. Sometimes the kids would reject Mom and Dad, too.
They lived to see AIDS, Women's Liberation, greater racial and religious intermarriage and even state-sanctioned gay marriage.
They've seen airplanes fly into the World Trade Center, terrorists blow up children on buses and people in foreign lands celebrate the atrocities by shooting bullets into the air and giving candy to children.
They left a world where they could take the family to see a major-league ball game, buy the wife and two kids a hot dog and drink, and still come home with change from a $10 bill.
They live in a world of corporate scandals, where politicians always seem to favor the rich, and ... well ... maybe it was always that way and they just didn't know it.
Still, the world they purchased for us with their blood and their gallantry is a world of freedoms that never could have existed without their victory over a monstrous evil.
What follows on the pages of this section is a wholly inadequate attempt by The Daily Star to pay homage to all the heroes of World War II who have ever lived in Otsego, Delaware, Chenango and Schoharie counties.
We've tried mightily to find as many names as we could of World War II veterans _ living and dead _ from our "Heartland of New York" area and include them in this Roll of Honor.
We've contacted many veterans organizations and asked our readers to send us names. The response has been beyond anything we could have anticipated.
Hundreds of your phone calls, emails and other communications flowed into our office, often accompanied with reminiscences and words of praise for the veterans to whom we owe so much.
Daily Star Librarian Deb McCaffery deserves some sort of medal for keeping her sanity while fielding innumerable phone calls and superbly coordinating our efforts to get as many names as we could. Community Editor Emily Farmer, clerk Johnna Nesteruk, copy editor Kathryn Bartholomew and intern Patrick Garvin were a big help, and Weekend Editor Denielle Ziemba expertly designed the pages.
The names are in no particular order, and we're certain that despite our herculean efforts, we haven't obtained nearly all those who deserve to be included. If you let us know, we'll try to get names we've missed into next weekend's editions.
There are bound to be some duplications in such a gargantuan list, and if there is anyone who thought it would be jolly to send a bogus name to be included in this Roll of Honor, that is beyond sad.
There are more than 5,000 names included here. We wish we could tell all of their individual stories because their lives and accomplishments have meant so much, even if many of us don't know enough to be grateful.
We are so very proud of each and every one of these veterans.
Sam Pollak is editor of The Daily Star. He can be reached at (607) 432-1000, Ext. 208 or spollak@thedailystar .